Product Search
Product Range
Variable speed Drives, AC and DC Motors — Ex-Ed can supply you with a full range of control systems, installation options and services.
Parker SSD 14 x 51mm Semiconductor Fuses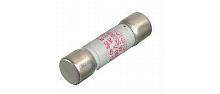 Ferrule Type
Online Price from £6
Main AC Semiconductor Supply fuse suitable for use with the Parker SSD Drives 512C and 514C DC Drives.
Also with the now obselete SSD Drives 512 and Eurotherm Drives 512.
Two fuses and two fuse holders required for 415V Line to Line operation.
Technical Specification
Extremely high breaking capacity fuses.
Protection of Power Semiconductor as per IEC Standard 60269.1 and 4
Breaking Capacity 200kA at 690Vac
Power Dissipation 4.6 - 13.0 Watts
Voltage Rating 690Vac
CH390123 12Amp Fuse. Power Dissipation 4.6Watts. Ferraz Shawmut Part Number W078035J
CH390163 16Amp Fuse. Power Dissipation 6.2Watts. Ferraz Shawmut Part Number X078036J
CH390323 32Amp Fuse. Power Dissipation 10.6Watts. Ferraz Shawmut Part Number A078039J
CH390054 50Amp Fuse. Power Dissipation 13.0Watts. Ferraz Shawmut Part Number C078041J
Product Dimensions
Dimensions
Fuse
Diameter mm (in)
Length mm (in)
Weight (Kg)
CH390123
14 (0.55)
51 (2.0)
0.022
CH390163
14 (0.55)
51 (2.0)
0.022
CH390323
14 (0.55)
51 (2.0)
0.022
CH390054
14 (0.55)
51 (2.0)
0.022