Product Search
Product Range
Variable speed Drives, AC and DC Motors — Ex-Ed can supply you with a full range of control systems, installation options and services.
Parker SSD Single Phase Fuse Kit Semiconductor Fuses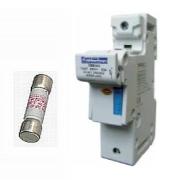 506 / 507 / 508 / 512C / 514C
Online Price from £10
The single phase fuse kit contains one semiconductor fuse and one fuse holder.
For use with the Parker SSD Drives (Formerly Eurotherm Drives) 506 / 507 / 508 / 512C and 514C single phase DC Drives.
Also the SSD Drives 512 and Eurotherm Drives 512.
Two fuse kits required for 415V Line to Line operation.
Technical Specification
Maximum voltage rating 690V AC.
Product Dimensions
Dimensions
Fuse Kit
H mm (in)
W mm (in)
D mm (in)
Weight (Kg)
LA054664
63 (2.5)
15 (0.6)
52 (2.0)
LA050062
63 (2.5)
15 (0.6)
52 (2.0)
LA057605U012
110 (4.3)
26 (1.0)
80 (3.2)
LA057605U016
110 (4.3)
26 (1.0)
80 (3.2)
LA057605U032
110 (4.3)
26 (1.0)
80 (3.2)
LA057605U050
110 (4.3)
26 (1.0)
80 (3.2)