Product Search
Product Range
Variable speed Drives, AC and DC Motors — Ex-Ed can supply you with a full range of control systems, installation options and services.
Sprint-Electric 14 x 51mm Semiconductor Fuses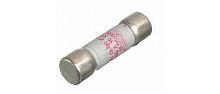 Ferrule Type
Online Price from £7
Main AC Semiconductor supply fuse suitable for use with the Sprint Electric 1600i, 3200i/16 and 3600XRi single phase DC Drives. For 415V Line to Line operation, two fuses and two fuse holders required.
Three fuses and three fuse holders required for the three phase, Sprint Electric SLE 14, SL / SLX10, SL / SLX15 analogue drive and the Sprint Electric PL / PLX 10 and PL / PLX15 digital drive.

Code: CH00740A
Shipping Weight: .020 Kg
Fuse Rating: 40 A
Quantity: 1
Place order and proceed to checkout

Code: CH00730A
Shipping Weight: .020 Kg
Fuse Rating: 30 A
Quantity: 1
Place order and proceed to checkout
Technical Specification
Extremely high breaking capacity fuses.
Protection of Power Semiconductor as per IEC Standard 60269.1 and 4
Breaking Capacity 200kA at 690Vac
Power Dissipation 4.6 - 13.0 Watts
Voltage Rating 690Vac
Product Dimensions
Dimensions
Fuse
Diameter mm (in)
Length mm (in)
Weight (Kg)
CH00730A
14 (0.55)
51 (2.0)
0.220
CH00740A
14 (0.55)
51 (2.0)
0.220