Product Search
Product Range
Variable speed Drives, AC and DC Motors — Ex-Ed can supply you with a full range of control systems, installation options and services.
Sprint-Electric NH Fuse base and covers Semiconductor Fuses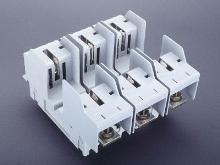 3 Pole panel mounting
Online Price from £16
NH Fuse base with two piece shock protection cover to ensure safe connection of cables.
Panel mounting with screw terminals top and bottom.

Code: CP102054
Notes: 1 Pole, Size 000 Fuseholder. Cover included
Shipping Weight: 0.250 Kg
Quantity: 1

Code: CP102055
Notes: 3 Pole, Size 1 Fuseholder. Covers included.
Shipping Weight: 2 Kg
Quantity: 1

Code: CP102233
Notes: 3 Pole, Size 3 Fuseholder. Covers included.
Shipping Weight: 4 Kg
Quantity: 1
Product Dimensions
Dimensions
Fuse base

H mm (in)
W mm (in)
D mm (in)
Weight (Kg)
CP102054
147 (5.79)
36 (1.42)
88 (3.46)
0.160
CP102055
205 (8.07)
180 (7.09)
110 (4.33)
1.6
CP102233
247 (9.72)
240 (9.45)
134 (5.28)
3.4