Product Search
Product Range
Variable speed Drives, AC and DC Motors — Ex-Ed can supply you with a full range of control systems, installation options and services.
Sprint-Electric SLX DC Thyristor Drives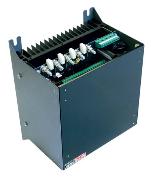 Three Phase 4Q Fully Regenerative Analogue DC Controller
Online Price from £1999
For users who require or prefer analogue control loops. The Sprint-Electric SLX, 4 Quadrant DC motor controllers are compact, reliable and efficient.
The 4Q Sprint-Electric SLX improves energy efficiency by regenerating energy into the mains supply whilst under braking.
Fully isolated control electronics and a wealth of i/o, the Sprint-Electric SLX is easy to integrate with other drives and equipment.
To allow for greater control of high motor speed applications, the Sprint-Electric SLX has a built in field weakener for extended speed ranges.
Product Dimensions
Dimensions
Frame
H mm (in)
W mm (in)
D mm (in)
Weight (Kg)
1
250 (9.8)
204 (8.0)
143 (5.6)
8
2
410 (16.1)
204 (8.0)
187 (5.6)
15