Product Search
Product Range
Variable speed Drives, AC and DC Motors — Ex-Ed can supply you with a full range of control systems, installation options and services.
Parker SSD HTTL Encoder Feedback Board Encoder Feedback Options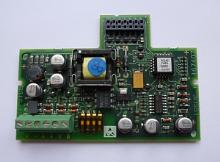 Online Price from £145
The HTTL Speed Feedback option allows incremental encoders to be connected directly to the motor controller to provide highly accurate speed feedback measurement.
For use with Parker SSD Drives 690P AC Inverters frame size B.

Code: LA467461
Notes: Suitable for use with Parker SSD 690 AC Inverter frame sizes B
Shipping Weight: .100 Kg
Quantity: 1
Place order and proceed to checkout
Technical Specification
Features:
• Contains up to four optically isolated differential inputs on channels A, B, M and H
• Decoding logic to interface the encoder to the microprocesso
• Supplies variable voltage, isolated encoder power supply
Specification:
Maximum pulse rate 250kHz
Receiver current < than 10mA per channel
Input format Two channels in quadrature, clock /dir or clock only
Phase displacement > than 1µs
Input voltage 10 - 30V differential recommended, or single-ended
Encoder supply Maximum load = 200mA or 2W, whichever is smaller. Voltage adjustable approximately 10-20V by firmware
Recommended cable: Pairs individually screened. Belden 8777 or equivalent.
Product Dimensions
Dimensions
Frame
H (in/mm)
W (in/mm)
D (in/mm)
Weight